Fangyuan Zheng, awarded at the EU TalentON event for a project for detecting and monitoring microplastics in the sea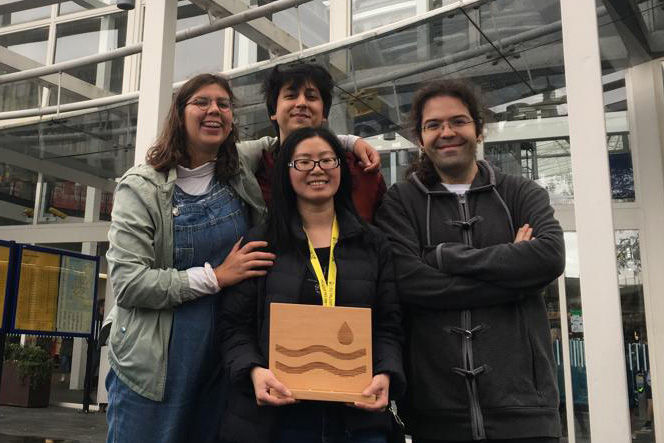 Fangyuan Zheng, pre-doctoral researcher at BCMaterials, has been one of the young scientists awarded at EU TalentON, an event held from September 14 to 18 in Leiden (The Netherlands). This initiative brought together a hundred researchers from different countries to provide solutions for the five missions included in the Horizon Europe program of the European Union. These missions contribute to achieving the objectives of the European Green Deal, the European Plan to Fight Cancer and the Sustainable Development Goals.
Zheng was part of the Foresea group, which won the third prize in the mission 4, called 'Recover our oceans and waters'. After an intense work of several days, the team presented the project entitled "Detecting and monitoring microplastics in surface waters using a combination of machine learning and citizen science". This proposal focuses on the detection and monitoring of microplastics on the sea surface using detectors connected to the cloud.
The evaluation committee of the projects valued both the originality of the project and its potential for moving from the scientific to the industrial field.
In addition to Zheng, the Foresea team included researchers Inês Silva (Portugal), Emrehan Berkay Celebi (Turkey) and Viktor Domazetoski (Macedonia).
BCMaterials can congratulate itself not only for the award received by Fangyuan Zheng, but also for the fact that two other researchers from the center, Leire Celaya and Amaia Zarandona, were selected to participate in such a high-level EU TalentON event. Our center wants to congratulate them as well and for their excellent work done during the event.
"It has been a great experience. We have been able to work with people from many different countries and with profiles that are different and complementary to ours. In addition, it is very important to maintain good communication when working in a team and take advantage of being an interdisciplinary group", says Fangyuan Zheng. "In my case, I have been able to contribute with the knowledge coming from the work I am doing for my doctoral thesis. It is focused on the degradation of drugs in water through photocatalysis. This allowed me to explain the importance of detecting and monitoring contaminants in water for their elimination," she says.