Six New Researchers Join BCMaterials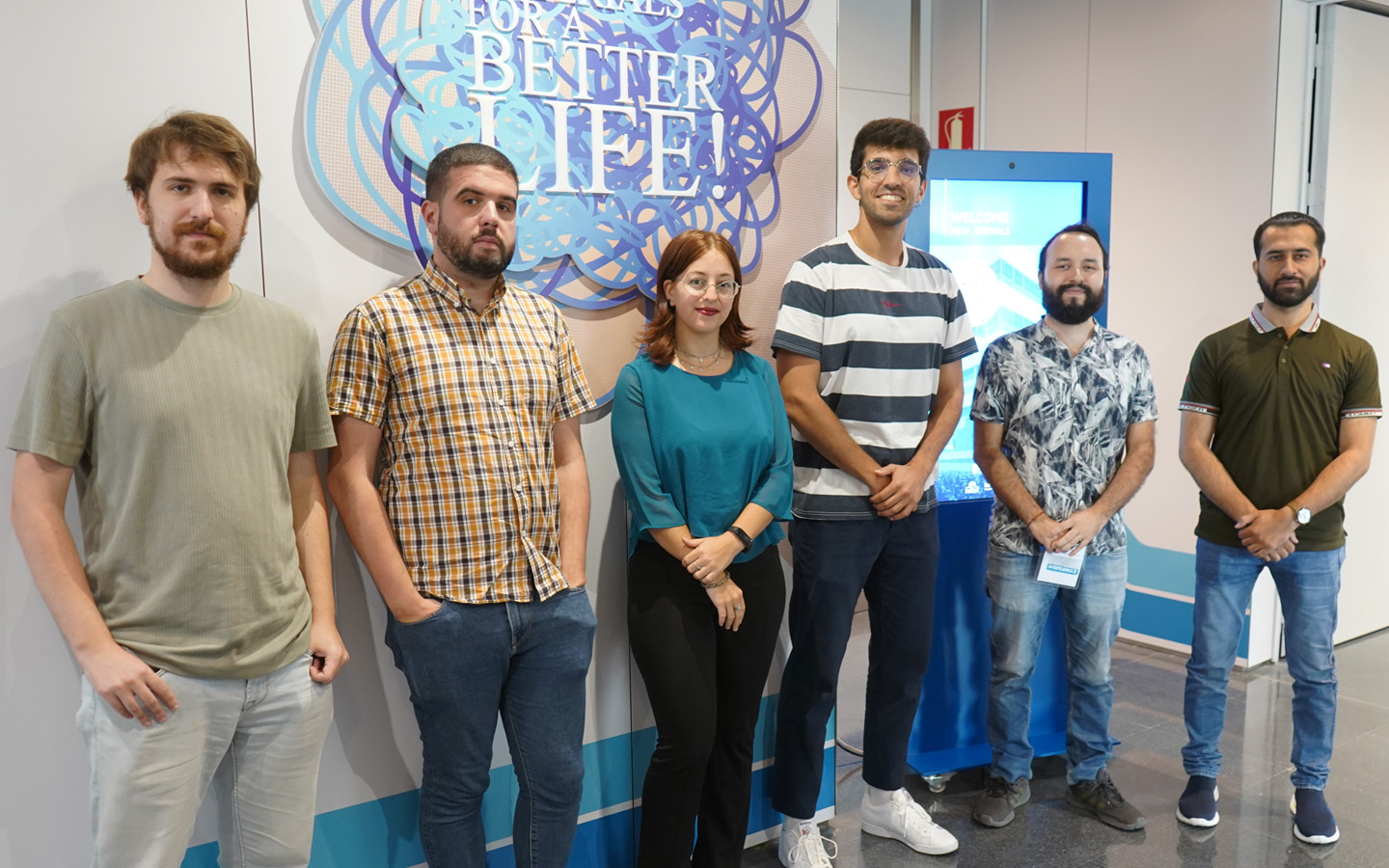 From left to right: Aingeru Ramos, Mario Fernández, Elvira Vidal, Jesús Alcaine, Santiago Ceballos and Zain Ul Abideen.
BCMaterials welcomes six new researchers who joined our center in recent days. They are Elvira Vidal, Aingeru Ramos, Zain Ul Abideeen, Santiago Ceballos, Jesús Alcaine and Mario Fernández. The first five are pre-doctoral researchers and the sixth one, is a post-doctoral researcher.
Three of these new scientists join the transverse research line of Computational Materials Science. Mario Fernández will work in coordination with Ivan Infante, Ikerbasque Research Professor, in the field of computational nanochemistry. Aingeru Ramos and Zain Ul Abideen will carry out their research under the supervision of Ivan Coluzza, also an also Ikerbasque Professor at BCMaterials. Ramos will work in the development of quantum algorithms for simulations in the field of protein folding. Zain Ul Abideen will participate in the development of an adaptive machine learning platform for computational chemistry.
Elvira Vidal joins BCMaterials within the line of Micro and Nanostructured Materials. She will work with Roberto Fernández de Luis, Research Fellow of our center, in the development of MOFs with applications in environmental science and green energy generation.
The Colombian researcher Santiago Ceballos joins the line of Advanced Functional Materials and Surfaces. His work, supervised by Daniel Salazar, BCMaterials Research Fellow, will consist of new nanotechnologies based on iron and palladium alloys for ultra-high sensitivity hydrogen sensors.
The sixth researcher recently arrived at BCMaterials, Jesús Alcaine, will join the Neutron Science transverse line. Alcaine will researcj quantum simulations of spin ice, supervised by José María Porro, Ikerbasque Research Professor.
It is worth noting in these recent incorporations the important role of the IKUR strategy of the Department of Education of the Basque Government, through the financing of several of the covered positions.