4º Edición del workshop "New Materials for a Better Life"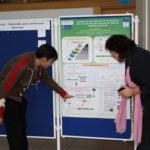 El pasado 20 de noviembre se celebró la cuarta edición del workshop anual de BCMaterials, "New Materials for a Better Life". Este año el tema del workshop ha sido materiales para la energia (Materials for Energy) y contamos con varios investigadores que nos presentaron sus diferentes propuestas: Alodia Orera, del CSIC de Zaragoza, habló sobre "New Materials for Fuel Cells"; Juan Carlos Jimeno, de la UPV/EHU, sobre "New Photovoltaic materials"; Liliane Guerlou-Demourgues, del CNRS Bordeaux, sobre "New cobalt based materials for asymmetric supercapacitors"; Santiago Cuesta, de la Universidad de Burgos, habló sobre "Radiation Resistant materials for nuclear and aerospace applications"; Alberto Bollero, de IMDEA, sobre "New Permanent Magnets for Energy Applications"; Gurpreet Singh, del CIC Energigune, sobre "Rechargeable batteries: Past, Present and Future" y Teófilo Rojo, también del CIC Energigune, habló sobre dicho CIC y sobre la investigación vasca en materia de energia.
Además durante la comida los asistentes pudieron ver varios posters sobre los diferentes temas tratados e incluso aportar sus ideas con la posibilidad de que se debatieran en la mesa redonda que tuvo lugar al final del acto con varios de los ponentes y Jose Manuel Barandiarán, director de BCMaterials. Fué una jornada muy interesante y esperamos que los asistentes disfrutaran tanto como la organización.
Gracias a todos por venir, os esperamos el año que viene.
  Para ver todas las fotografías de Workshop
Click Aqui